Carry the ladders you need on the van customized for your business
Transport more tools, keep productivity high and lower the risk of injuries and worker compensation claims by installing the right ladder-rack solution on your Ford Transit. Prime Design's ergonomic, patented and award-winning solutions have helped business owners around the world eliminate or reduce the costs, stress and business pressures caused by work-related injuries.
Click here to see how Prime Design's ErgoRack and AluRack look on Ford Transit vans.
Then select the solution and configurations to fit your business need.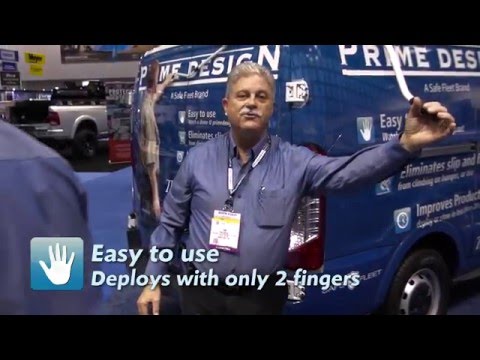 Ergonomics, worker safety and productivity all come together with Prime Design's ErgoRack.
The ErgoRack design:
Reduces muscle stress and strain
Loads and unloads ladders in seconds
Secures ladders automatically
Eliminates risk of injury caused by climbing on the bumper or tire
Has received ergonomic awards in the USA, France, Germany and Australia
Watch the video to see how quickly and easily the ErgoRack helps move ladders off and onto van roofs.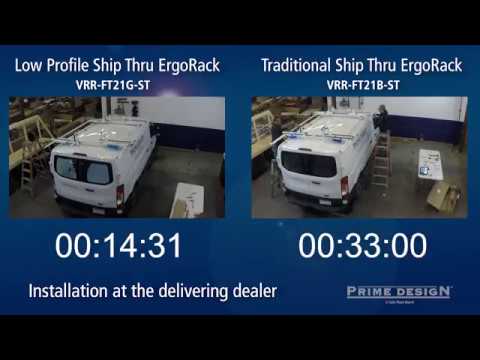 It's S.M.A.R.T! Simply the Most Advanced Rack Technology
Designed to fit within the narrow dimensions of a rail car when installed on your work van, this innovation is the industry's only ladder rack for safe and productive fleets that incorporates true "ship-thru" installation and delivery technology.
The design shifts installation from delivering dealership to original up-fitter for:
Consistent, professional, quality installations,
Quicker delivery, and
Reduced costs
Watch the Installation Advantage of the ErgoRack Low Profile in this video.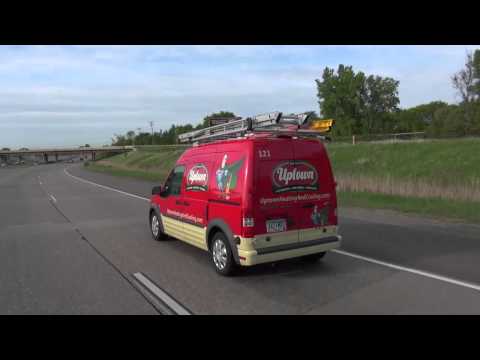 Load bulky sheets of plywood, drywall, pipe and even weekend toys with ease using the industry's original rolling bar.
The AluRack design:
Makes loading and unloading objects from behind the vehicle manageable and safe
Reduce risk of injury caused by climbing on the bumper or tire
Fits every type of vehicle
See how AluRack's versatility can enhance your work van experience.
Superior Space Utilization for Fast, Flexible Deliveries.